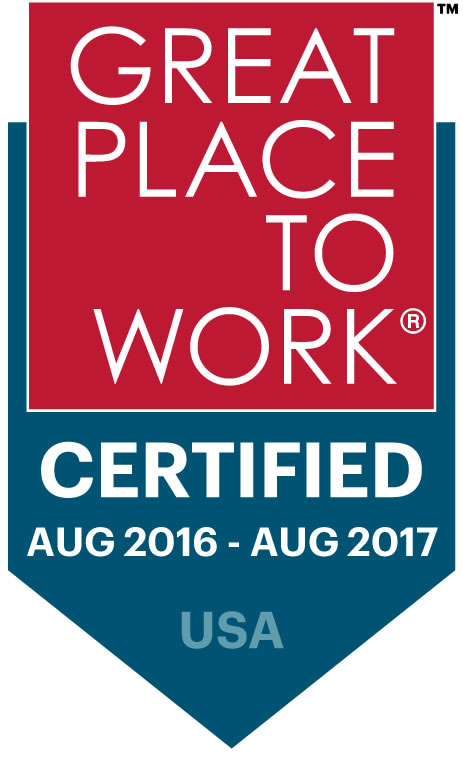 Richmond, VA, October 13, 2016 – Dixon Hughes Goodman, a U.S. top 20 public accounting and advisory firm, is pleased to announce its certification as one of the nation's great places to work based on reports by independent analysts at Great Place to Work®. DHG earned this credential based on feedback from its employees and partners in anonymous surveys, and the distinction is reflective of the firm's emphasis on its people, their careers and flexibility.
"Our top priority at DHG is to build valuable careers with our people while fostering a high trust culture that fuels performance," said CEO Matt Snow. "I am incredibly proud of this recognition because it is the direct result of candid feedback from our people. It is an honor to work alongside colleagues who are passionate about sharing their voice to help make DHG a great workplace."
"Positive feedback from our people is the ultimate form of recognition," said Effin Logue, Chief People Officer. "These ratings and the accompanying certification validate our hard work in fostering a unique, people-focused culture and a workplace in which our people are proud to be a part."
"We applaud Dixon Hughes Goodman for seeking certification and releasing its employees' feedback," said Kim Peters, Vice President of Great Place to Work's Recognition Program. "These ratings measure its capacity to earn its own employees' trust and create a great workplace – critical metrics that anyone considering working for or doing business with Dixon Hughes Goodman should take into account as an indicator of high performance."
A summary of DHG's ratings can be found here.
About Dixon Hughes Goodman LLP
With more than 2,000 people in 12 states, Dixon Hughes Goodman ranks among the nation's top 20 public accounting firms. Offering comprehensive assurance, tax and advisory services, the firm focuses on major industry lines and serves clients in all 50 states as well as internationally. Visit www.dhgllp.com for additional information.
About Great Place to Work®
Great Place to Work® is the global authority on high-trust, high-performance workplace cultures. Through proprietary assessment tools, advisory services, and certification programs, including Best Workplaces lists and workplace reviews, Great Place to Work® provides the benchmarks, framework, and expertise needed to create, sustain, and recognize outstanding workplace cultures. In the United States, Great Place to Work® produces the annual Fortune "100 Best Companies to Work For®" list and a series of Great Place to Work® Best Workplaces lists including lists for Millennials, Women, Diversity, Small and Medium Companies and over a half dozen different industry lists.
Read More