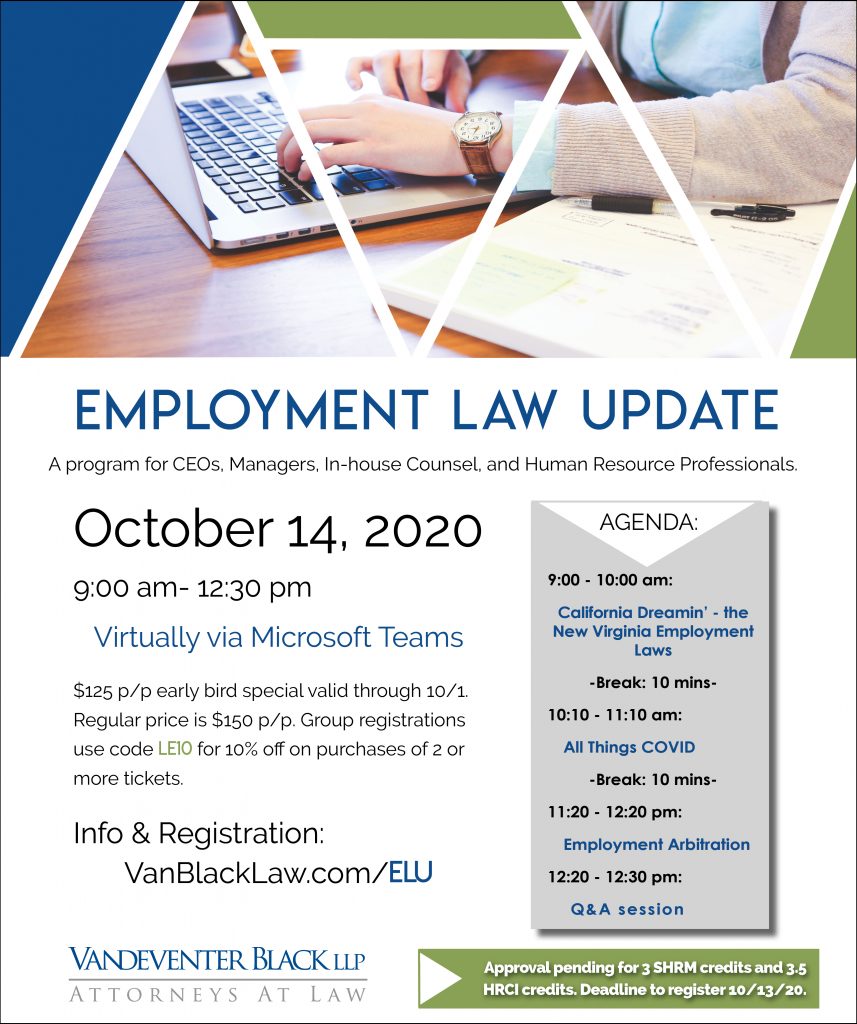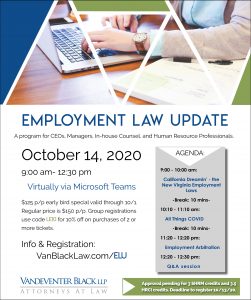 A program for CEOs, Managers, In-house Counsel, and Human Resource Professionals.
October 14, 2020
9:00 am- 12:30 pm
Virtually via Microsoft Teams
$125 p/p early bird special valid through 10/1. Regular price is $150 p/p.
Group registrations use code LE10 for 10% off on purchases of 2 or more tickets.
AGENDA:
9:00 – 10:00 am:
California Dreamin' – The New Virginia Employment Laws
We will discuss the new employment laws and the latest developments regarding discrimination, pregnancy accommodation, wage and hour, independent contractors, noncompete agreements, and more.
-Break: 10 mins-
10:10 – 11:10 am:
All Things COVID
We will review recent updates on leave issues, safety, and compliance concerns for employers in the pandemic.
-Break: 10 mins-
11:20 – 12:20 pm:
Employment Arbitration
Can employee arbitration agreements protect your business from the new wave of litigation risks?
We will discuss the practical considerations of employment arbitration and factors to assess in deciding whether arbitration is appropriate.
12:20 – 12:30 pm: Q&A session
RE-CERTIFICATION CREDITS APPROVAL PENDING: (3 credits SHRM | 3.5 credits HRCI)
For more information and to register, please visit www.vanblacklaw.com/elu