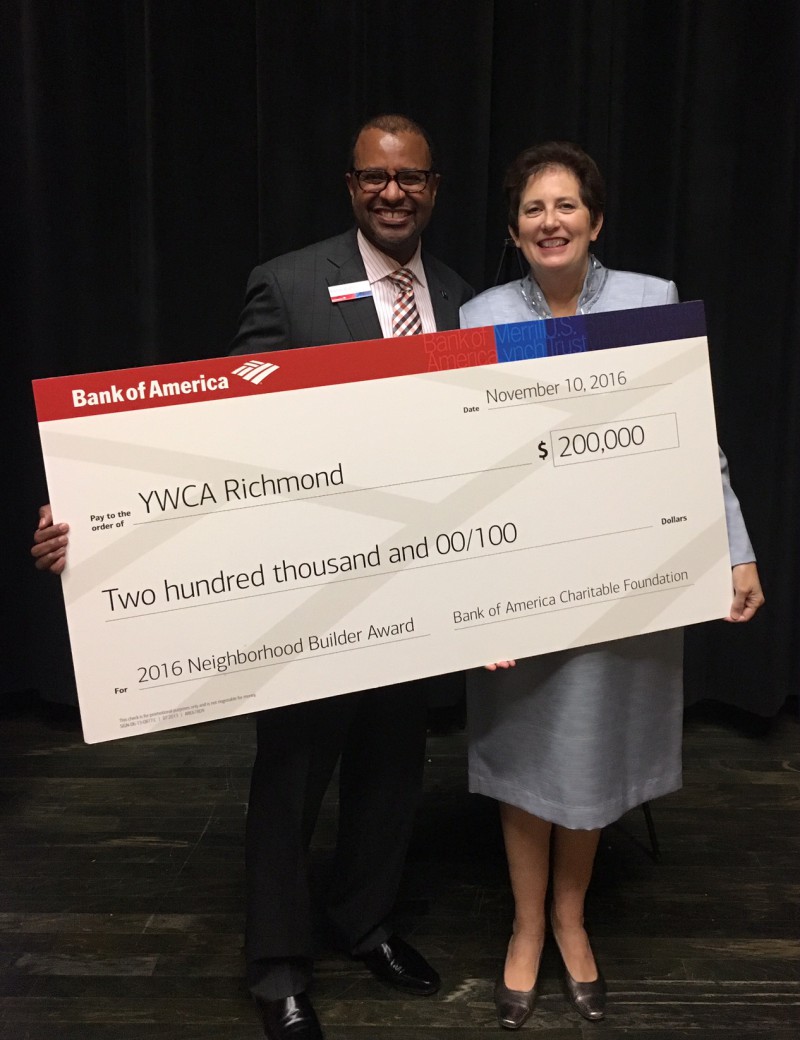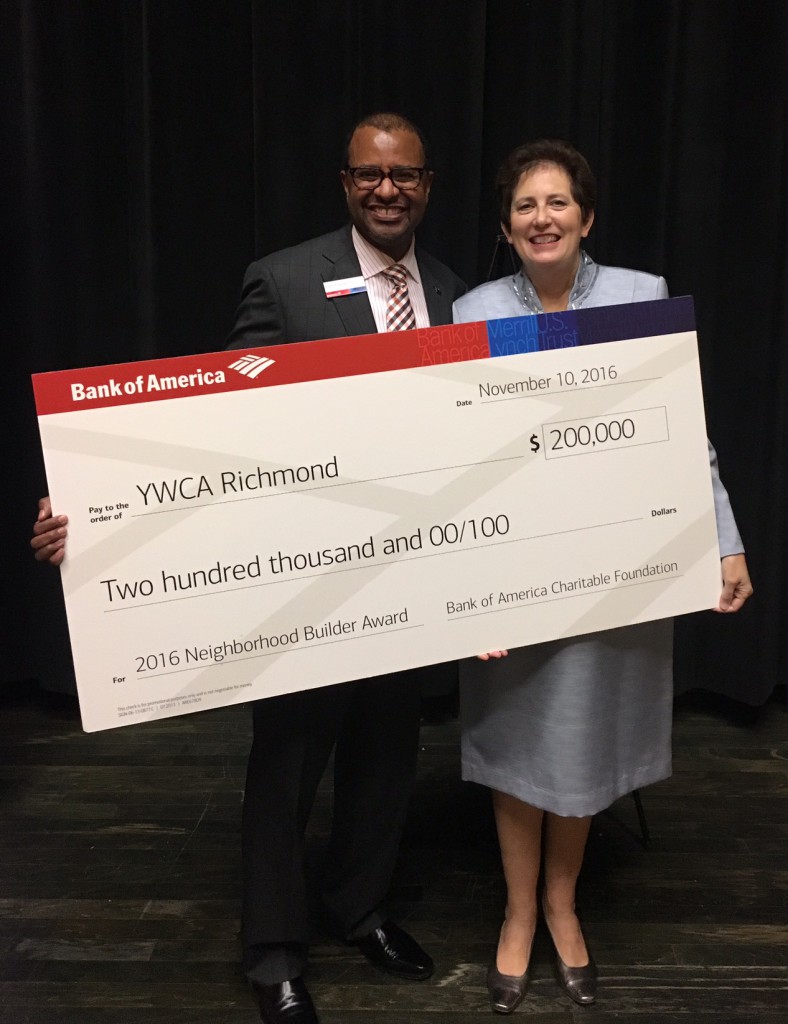 Bank of America has announced YWCA Richmond as a 2016 Neighborhood Builder. The nonprofit is being recognized for its rehousing program for survivors of domestic violence, its workforce development programs and recent launch of their preschool. The initiatives support the sustainable growth of the Richmond economy. Through Neighborhood Builders (#NeighborhoodBuilders), the bank provides nonprofits with a unique combination of leadership development, $200,000 in flexible funding, a network of peer organizations across the U.S. and the opportunity to access capital in order to expand their impact in the Richmond community.
"We recognize the critical role that local nonprofits and their leaders play in strengthening our community and creating pathways toward economic progress in the Richmond community," said Victor Branch, Richmond market president for Bank of America. "Through our Neighborhood Builders program, we connect outstanding nonprofits like the YWCA to the funding and leadership development resources they need to scale their impact and foster a community where all families have the opportunity to live their best lives."
YWCA of Richmond's goal is to empower women, children, and their families to live their best lives through early childhood education programming, violence prevention education, and emergency and on-going services for survivors of sexual assault and domestic violence.
"The Neighborhood Builders grant gives YWCA Richmond the ability to reach more survivors of domestic and sexual violence with trauma-informed services, and more young children with high quality, innovative and affordable preschool education," Linda Tissiere, chief executive officer of YWCA Richmond said. "We are honored to receive this award and partner with Bank of America to expand our community impact for women, children and families."
Since 2004, through Neighborhood Builders, Bank of America has helped nonprofits create greater impact in their communities and better prepare for the future by providing the tools and resources they need to develop stronger strategic plans, chart a succession plan, navigate through tough economic times, and enhance their funding opportunities. Since the program's inception, Bank of America has invested more than $180 million in 900 nonprofit organizations across the country, providing leadership resources to nearly 2,000 nonprofit leaders, and the program has been recognized as the nation's largest philanthropic investment in nonprofit leadership development.
Neighborhood Builders is a signature demonstration of the bank's work to address issues fundamental to economic mobility in order to build thriving communities and illustrates how strong cross-sector partnerships and local community leaders can play a meaningful role in positioning communities for success.
About Bank of America Environmental, Social and Governance
At Bank of America, our focus on Environmental, Social and Governance (ESG) factors is critical to fulfilling our purpose of helping make people's financial lives better. Our commitment to growing our business responsibly is embedded in every aspect of our company. It is demonstrated in the inclusive and supportive workplace we create for our employees, the responsible products and services we offer our customers, and the impact we help create around the world in helping local economies thrive. An important part of this work is forming strong partnerships across sectors – including community and environmental advocate groups, as well as non-profits – in order to bring together our collective networks and expertise to achieve greater impact. Learn more at www.bankofamerica.com/about and connect with us on Twitter at @BofA_News.
Read More